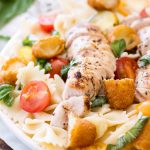 This Chicken Caprese Pasta is filled with fresh basil, grilled chicken, tomatoes, and Mozzarella Sticks, kicking the classic caprese salad recipe up a notch. The texture and flavor of the Mozzarella Sticks pairs perfectly with the pasta and chicken, the fresh basil and tomatoes bring the whole dish together, making a simple dinner recipe that is full of flavor!
Keyword:
Chicken Caprese Pasta
Caprese Pasta:
1

lb

about 8oz Bow-Tie Pasta (aka Farfalle, but any kind of pasta will be fine)

8

Farm Rich Mozzarella Sticks

1 1/2

cups

cherry tomatoes, halved (I used a combo of red and yellow)

3-4

Tbsp

fresh basil, chopped

5-6

boneless chicken tenders, about 2 boneless chicken breasts

3

Tbsp

olive oil

1/4

cup

herb vinaigrette, I used store-bought

1

Tbsp

dried Italian herbs

salt and pepper to taste
In a plastic bag, marinate chicken and herb vinaigrette for 5-6 minutes.

While the chicken is marinating, cook pasta according to the directions on the back of the box.

Bake the Mozzarella Sticks according to the directions on the package (you can use an oven, conventional oven, or a deep fryer).

Heat oil in a skillet over med-low heat. Remove chicken from the marinade and place into the heated skillet. Sprinkle the Italian herbs over the chicken, and season with salt and pepper (this can vary according to taste, but I used about 1/2 tsp ground pepper and 1/4 tsp salt).

Cook each side for about 3-4 minutes, or until chicken is browned and entirely cooked through. Pull off the heat and allow to rest before slicing.

Once the Mozzarella Sticks are cooked, slice each one into 4 pieces.

Toss tomatoes, fresh basil, and mozzarella sticks with the pasta. Top with chicken and drizzle with the herb vinaigrette, balsamic glaze, olive oil, or pesto, if desired.

Serve immediately.

Enjoy!